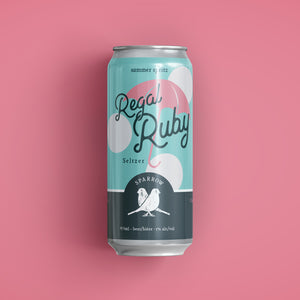 Regal Ruby Seltzer - Apricot/Plum
Our version of a hard seltzer. We made this one with 200 pounds of fresh Apricot and Plum, cane sugar, and just the right amount of barley to keep it legal. This seltzer is tart, colourful, refreshing, and easy to crush. Very subtle flavour that works well as a base for Sangria. No colour added or taken away, no artificial anything...just pure all natural ingredients! Due to the process of producing and aging this style there is a normal slight sulfur aroma on the nose only that quickly dissipates within seconds of the pour.

5% alc/vol

Ingredients: Barley, Cane Sugar, Fresh Plum & Apricot, Yeast, Water.