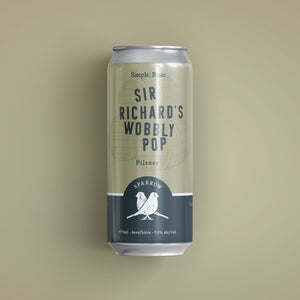 Sir Richard's Wobbly Pop
Simple, Crisp, and Wobbly. 

Our Pre-Prohibition Pilsner is a throwback to the late 1800's in Canada when Sir Richard William Scott enacted the Canada Temperance Act (Scott Act)...We created a beer that is higher in alcohol than traditional Pilsner as an "in your face Sir Richard Scott thing". Say no to Prohibition! Staying true to the practices of carbonation in 1878 we let this beer naturally carbonate before transferring it to the final package. 
Balanced bitterness, floral notes and tones, refreshing. 

5.9% alc/vol.
Ingredients: Barley, Hops, Yeast, Water.