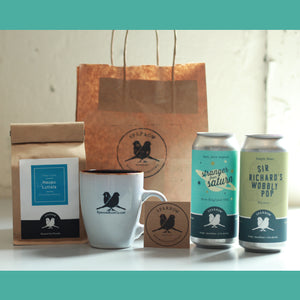 Gift Pack
Our gift pack features:
1 x bag of our fresh whole bean coffee.
1 x custom branded artisan mug.
2 x current contrasting beers for variety.
*** Coffee will always be a neutral, big body, approachable coffee that appeals to all types of extraction and appeases everyone regardless of whether or not you add milk or sugar to your cup.
*** Beer will be a Pilsner/Lager and one of our signature IPA's. 
*** Substitutions are possible with notice.